A healthy eating specialist at WFM Columbus Circle and WFM Union Square in NYC, Kelly Dupuis believes in eating foods without labels (an ear of corn, a ripe tomato). As a proponent of plant-based diets, she eschews packaged substitutes offering a quick fix. For Kelly, it's all about cooking from scratch. In her weekly column, Comfort Food - Refreshed, Kelly doesn't just adapt her favorite comfort foods to her plant-strong lifestyle, she reimagines them in original recipes with a wink to the past.
This week: Kelly creates her own, happily natural versions of popsicles past.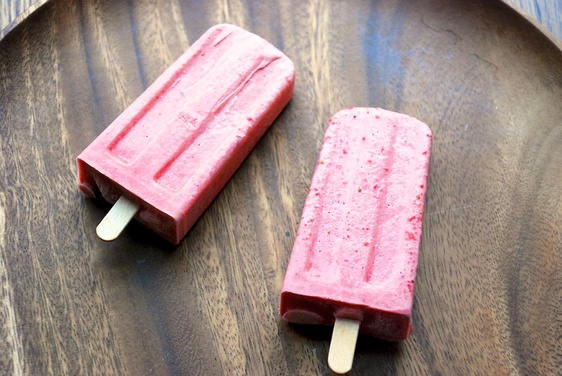 Photo by cristinasciarra
- Kelly
Oh, popsicles. I'm not sure there's more fun on a stick to be found anywhere in the universe. I have way too many memories to count surrounding the frozen confection known as the popsicle (or freezer pop or push up pop or ice pop). First off, I recall those push-up pops with the ridiculous little characters on the packaging. Supernaturally colored and throat-itchingly sweet. You'd push up the pop from the bottom of the plastic sleeve and suck out the contents and that'd be it. Then there were the double pops. The two-sticked pops made sharable by the way they'd perforate down the middle with an easy break. Those came in three flavors: cherry, orange, and grape and would generally stain one's lips and tongue right quick. Those are childhood popsicles in a nutshell. In my teens came the single pops, single stick in semi-exotic varieties: lemon, coconut, lime, and raspberry. Pretty fancy stuff, I tell you what.
Of course, there was the rudimentary way of making your own in an ice cube tray. This is the way it generally went down: first, pour orange juice, lemonade, or grape juice in the little squares in the tray. Then 30 minutes later, stick a toothpick in each little spot in the tray when the pops had approached the half-frozen point. Very soon after, you could pop up the teeny treats out of the tray and enjoy your afternoon, mini-popsicle style. I remember a friend's Mom bought these actual popsicle sleeves in which you could make real-life full-size popsicles! (They also had a swimming pool and cable. So her house was the spot to be on a summer afternoon.) If I remember correctly, her Mom made fruit punch from the powder out of a can and turned that into popsicles. Those pops were the kind that dyed your mouth area red for hours if not days. Not exactly all-natural. Or even "some natural."
But popsicles, if you haven't noticed, have suddenly gone all artisanal. Specialized and fancified, if you will. There are little pop-up shops (pardon the pun, but it's terribly appropriate) all over New York City serving all-natural popsicles with flavors like plum chai and lemon basil and watermelon coconut. Super delicious stuff. My boyfriend has his favorite little popsicle shop down the street from him. They just set up shop on the side of this deli. I'm not even sure they've got a name. The dudes there have a flash of customer service going. They unwrap a bit of the popsicle for you and you pull it from the wrapper. It's a nice little touch.
The popsicle shop that recently blew it open for me is Zora Dora's in Beacon, NY. I went there with my boyfriend and his friends and family a few weeks back. It was one of those ridiculously humid days when the sweat gathers on your forehead moments after exiting air conditioning. This place had dim lighting and cute lime green tables and a giant freezer that you could peak into to see a rainbow of pops smiling at you -- raspberry chamomile, lime chili basil, banana, straight up chocolate. Just amazing. My man found a big piece of lemon rind in his but next to the sugary sweetness, it just popped with an awesome acidity. This popsicle shop was nothing less than inspiring. So much so that today I present to you an array of popsicles that intend to satisfy and delight the kid in all of us!
A bit of honey plays up the sweetness of these pops, but other than that, no sugar added! Summer's almost over but these recipes are a lovely sweet treat in whatever season, whenever refreshment is called for.
Watermelon Cucumber Popsicles
Serves 6-8
3 cups watermelon cubes (1 inch)
1 english cucumber, peeled and sliced
1/4 cup water
2-3 tablespoons honey
zest and juice of one lime
See the full recipe (and save and print it) here.
Mixed Berry Lemon Popsicles
Serves 6-8
3 1/2 cups mixed ripe berries
1/3 cup lemon juice (or more to taste)
1 cup water
1/4 cup honey
See the full recipe (and save and print it) here.
Pineapple Mint Popsicles
Serves 6-8
3 cups ripe pineapple cubes (1 inch)
1 cup water, divided
2-3 tablespoons honey
juice of one orange
1/4 cup roughly chopped mint leaves
See the full recipe (and save and print it) here.
In the NYC area? Stop by for cooking advice!
Do you need help with maintaining a healthy diet? Drop by WFM Columbus Circle or WFM Union Square to chat with me about this recipe and plant-strong cooking tips.
If you're not in the area, send me a direct message or add your comments or questions below.
Like this post? See Kelly's topic from last week: Loaded Gazpacho.
Kelly Dupuis is a healthy eating specialist at WFM Columbus Circle and WFM Union Square who delights in transforming comfort classics into deliciously satisfying and fun plant-based dishes.