In her biweekly column, A Shared Tradition, CIA grad and amateur food historian Molly Siegler cruises around the world (and into the depths of her pantry) to explore the versatility of a single food item.
This week: Molly stands up for the humble chicken breast.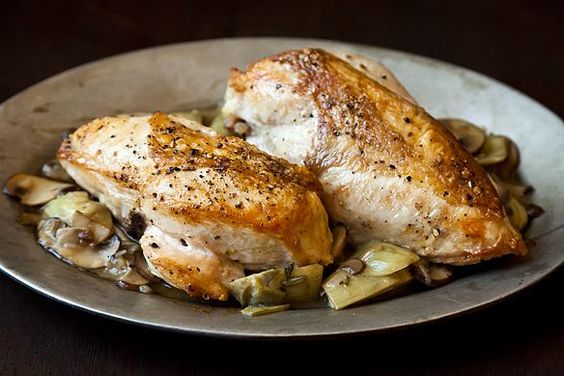 Roast Chicken Breasts with Mushrooms and Artichoke Hearts (photo by James Ransom)
- Molly
When it comes to choosing a cut of chicken in the increasingly fashionable world of food, dark meat reigns supreme. I will admit to preferring a (perfectly cooked) chicken breast over any other cut -- even if it expels me from the cool group. However, I'm not the only one with chicken breast on the brain. Both Food52 and Mark Bittman recently featured the much-maligned lean portion.
The keys to a beautifully cooked chicken breast are timing (cook until just done, never longer) and the addition of moisture. Chicken breast happily accepts flavoring agents, which only help its moisture-seeking cause. Slather on an herbaceous sauce, drown the breasts in an acidic marinade, or lacquer them with a sweet glaze on the grill.
Ukranian
Chicken Kiev ran its course in supper clubs during the '60s, but the crunchy, buttery chicken capsule is ripe for a comeback.
A pounded chicken breast encloses the molten core.
Create a compound butter with the unsalted variety, fresh dill, lemon juice, and a dash of cayenne.
Use the standard breading procedure, ending with thyme-flecked breadcrumbs, to develop the essential Kiev crust.
Sicilian
Involtini references the pounded, filled, and rolled meat dishes popular on this southern Italian island.
Gently hammer the chicken breast until it's quite thin and ready to roll.
Prosciutto lines the interior of the chicken providing an earthy, chewy layer.
Fresh Pecorino is crumbled and mixed with minced garlic and parsley for the filling.
Toasted pine nuts, currants, and orange zest solidify the Sicilian vibe.
Ethiopian
Chicken breast is used to soak up heat in the classic doro tibs. For a recipe, check out this site and scroll down to "meat dishes."
Sichuan
A whirl in a wok generates habit-forming dry-fried chicken.
Chicken breast is best for this preparation as it quickly engulfs the accompanying flavors of the dish.
Dried hot red chiles and Sichuan peppercorns are left whole to infuse the cooking oil.
Chile bean paste amps up the heat while adding body to the stir-fry.
Celery and scallions provide a necessary dose of green.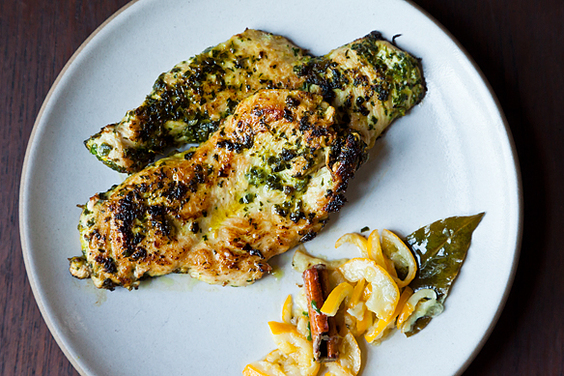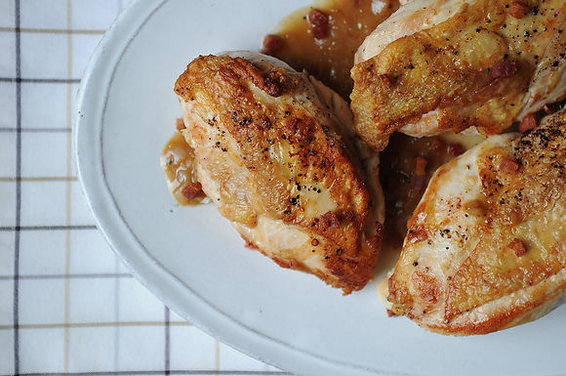 Chicken Cutlets Grilled in Charmoula with Quick-Cured Lemon Confit and Pan Roasted Chicken Breast with Dijon Sauce and Crispy Pancetta. Photos by James Ransom (left) and Sarah Shatz
These are just a few of the ways I like to travel by way of the chicken breast. What other regionally inspired flavors would you use to make this versatile cut your own? Share your ideas in the comments section below.
Do you love a good food theme as much as I do? Tell me what food items or themes you'd like to see featured in this column and your idea could be the subject of an upcoming post!
Like this post? See Molly's previous topic: Black Tea.
Molly is a chef and food educator living and cooking in northern Wisconsin. When she's not dreaming up themed menus, she's dishing out other delicious content as the editorial assistant for the Whole Foods Market Cooking program.