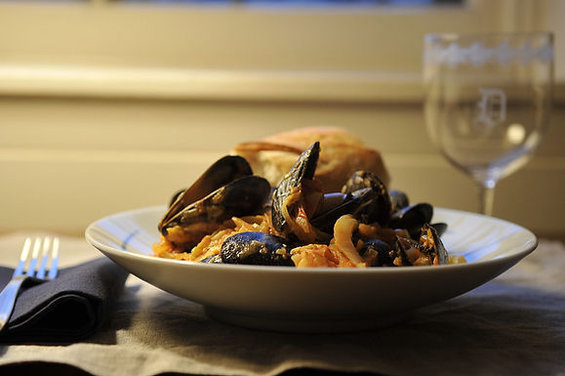 Photo by Sarah Shatz
What better meal to serve yourself while everyone's out of the house than delightfully garlicky and messy mussels? Inexpensive and plentiful, mussels are quick-cooking, one-pot friendly, and, when they're served dripping in sauce, offer a little reprieve from rigid table etiquette (no one can see the saffron-colored juice running down to your elbows). Tonight, roll up your sleeves, tear off a piece of crusty bread, and enjoy some alone time with a bounty of bivalves.
Mussels for One (or Two)
Serves 1-2
1 tablespoon extra-virgin olive oil
1 tablespoon unsalted butter
1.5 cups leeks, sliced into thin half-moons, white and pale green parts only
1 small bulb fennel, cored and chopped or thinly sliced (about 1 cup), plus a few fronds for garnish
Kosher or sea salt
1-2 pinches saffron threads
1 tablespoon fresh thyme leaves
2 (or more, if you're solo) fat cloves garlic, peeled and smashed
1/2 ounce (1 tablespoon) Pernod or other anise liqueur
4 ounces (1/2 cup) white vermouth or dry white wine
1 cup crushed tomatoes with juice
1 pound mussels, scrubbed and de-bearded
1/4 cup heavy cream
See the full recipe at FOOD52.
• • • • •
Wine Pairings:
I love to eat mussels because they are quick to cook and delicious, and so clearly from the sea. There is something transcendent about picking the meat out of the shell -- it's slow, almost therapeutic. Anyway, what to drink? Coastal wines work best: Chenin Blanc from the Loire Valley, Albariño from the Spanish Pacific, Falanghina from Italy's Adriatic shore. If you want something a bit more vinous, try a rosé from southern Provence. Or, opt for a Belgian beer like Duvel. Mostly, you want something snappy, fresh, and with a mineral or saline component.
Top Picks
Duvel Golden Ale, Belgium
2010 Aubuisieres (B Fouquet), Domaine des Vouvray Cuvee de Silex Chenin Blanc, France
What's your favorite home alone meal? Share your ideas in the comments section below.
Like this post? See the Make This Tonight topic from last week: Finger-Lickin' Finger Lakes Chicken.