Photo by Joseph De Leo; styled by Sarah Copeland
Rosemary is at home in the depths of winter with its fresh, piney scent and hardy stem. It's just right for cold-weather braises, savory crackers, and citrusy salads, and it can serve as an au natural skewer for kabobs (albeit at this time of year, kabobs cooked in the oven instead of atop an outdoor grill). This week, we're paying tribute to this much-loved herb, before the daintier spring herbs take the reins.
The perennial favorite has long been used for its health and cosmetic properties. Ancient Greeks used rosemary to enhance memory, and in the 14th century, rosemary oil helped to create the world's first perfume. As a member of the mint family, rosemary is highly aromatic and has a green, earthy, pine-like flavor that can be dominating, as its aroma continues to develop while cooking. Pair it with ingredients that can hold their own: red meats like beef and lamb, olives, citrus zest, fennel, beans, and mushrooms, to name a few.
Reach back into the depths of your memory (and pantry) and share your favorite ways to enjoy rosemary. Add your cooking tips and serving suggestions in the comments section below. Remember, if you choose to upload a recipe (and we hope you will), please mention it in your comment.
We'll assemble and share some of our favorite ideas next week.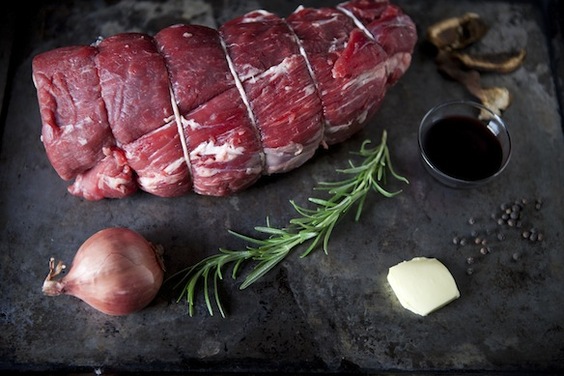 Photo by Nicole Franzen
Recipes
Marinated Olives with Rosemary and Orange Peel
Herb-Crusted Turkey Breast with Mushroom-Leek Stuffing
Gnudi with Swiss Chard, Rosemary & Aleppo Pepper
Parmigiano Asiago Herb Pull Apart Bread
Lamb Kabobs
Porcini and Rosemary Crusted Beef Tenderloin with Port Wine Sauce [FOOD 52] (pictured above)
Rosemary Thyme Pita Chips [FOOD52]
For more winter produce inspiration, check out our previous topic: Your Best Ideas for Bok Choy, and the selection of your best tips and recipes, How to Use Bok Choy.